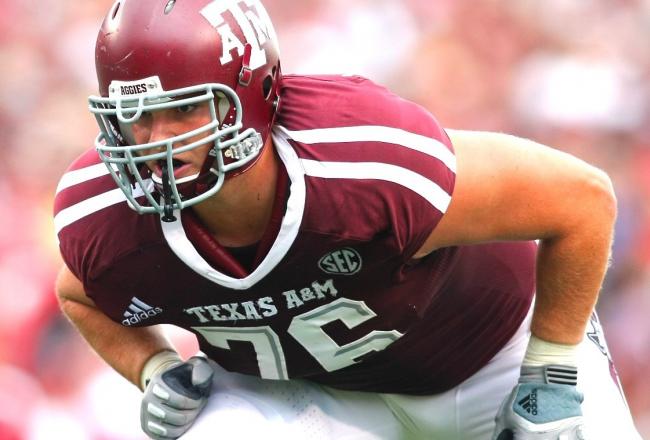 With the end of the NFL season only a few weeks away, draft talk is starting to heat up. Holding the top selection in the draft, the Chiefs have been the center of a lot of speculation regarding who they may pick. While many fans think
the team should draft its quarterback of the future with the top pick
, several draft experts are now predicting that Kansas City will trade down or select Texas A&M left tackle Luke Joekel.
ESPN draft analyst Mel Kiper believes only four players are worthy of the top overall selection: Georgia OLB Jarvis Jones, Texas A&M OLB Damontre Moore, Utah DT Star Lotulelei and Joekel. Kansas City already Tamba Hali and Justin Houston as pass rushers in the team's 3-4 defense, and has drafted a defensive lineman in the first round three of the past five years.
It is also unknown at this time if the team plans on resigning left tackle Branden Albert. If the Chiefs draft Joekel, they could release Albert or resign him and move him to right tackle or guard.
The biggest question
new Chiefs GM John Dorsey
and coach Andy Reid will have to make is whether the top two quarterbacks available – Matt Barkley and Geno Smith – are worth the top overall pick. Most draft analysts think the two quarterbacks are top ten material, but not worth the top pick in the draft. This
presents the Chiefs with an interesting option
- the team could potentially trade down a few spots in the first round and still get either Barkley or Smith. While they wouldn't get a ransom mirroring what Washington gave up to move up and select Robert Griffin III, the team could end up with its quarterback of the future and an extra draft pick or two. The Chiefs would have to find another team desperate for a pass rusher or left tackle to make a deal.
There will also be several veteran quarterbacks looking for a starting opportunity this offseason and the Chiefs may opt to go with one for the next couple of years and wait to see if it can find a quarterback in a future draft.
KCMB Kansas City News, official kc news site with breaking stories on The Kansas City Royals, Chiefs, charity events, the 2012 MLB All Star Game, weather, sports, MU, KU, ufo sightings, dui checkpoints, Kansas City neighborhoods, nightlife, concerts, the Sprint Center, the Power and Light District and current Kansas City news articles.